Creativity in the Time of Quarantine
The last few days have been extraordinary, to say the least. The Coronavirus (AKA – COVID-19) has completely re-written the script of everyday life, at least for the next 4 to 6 weeks at a minimum. The best way to slow the spread of this deadly virus is to create "social distance" between you and others which means limiting your interaction with others. This is an unprecedented crisis that has required extreme measures to limit the amount of exposure and deaths attributed to the virus.
Many of us find ourselves either working remotely (or not at all) while this virus runs its course. Normally an unexpected 3-week break would be met with jubilation, but the fact that you cannot take a trip to a warm location or (God forbid) take a cruise to a tropical paradise, dulls the luster of all of that free time a bit. You shouldn't leave the house unless absolutely necessary. This means, no dining out at restaurants, no treks to the movie theatre, no church services, club meetings, no trips to the bowling alley, roller rink, night clubs or bars, even libraries.
This seems like an introvert's dream and an extrovert's nightmare. Being stuck at home with no escape can be daunting and make you a little stir crazy, but how do you make the best out of a bad situation? Luckily, creativity thrives on constraint and when has there ever been a bigger constraint imposed upon us than Coronavirus? 
Here are some ideas on how to stay creative (as well as sane) during this difficult time.
Catch Up on Some Reading
As writers we all stockpile books. If you are like me, you have them packed onto bookshelves groaning under the weight of all those pages. Now is the time to pick a few of the books you've been "meaning to get to" for years now and finally read them.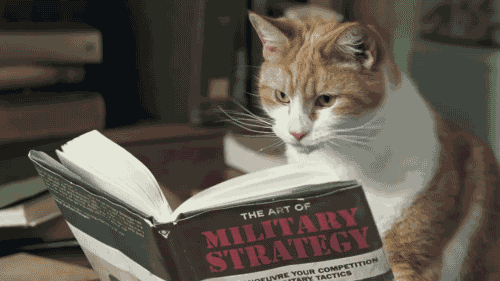 Keep a Journal of Your Thoughts and Feelings During This Extraordinary Time
There is a saying which was falsely attributed to being a Chinese curse, "May you live in interesting times."  This phrase, probably written by Joseph Chamberlin, a British statesman who became notable in the late 19th century, is indeed an applicable statement for the current situation.
Just as we asked those in previous generations about what the Great Depression and the homefront during World War II was like, this will surely be a time that our children and grandchildren will ask us about. So spend some time, even if it is only 10 minutes each day, to record your thoughts and feelings about the evolving situation. Write about the fear, the school and business closings, the epic shortage of toilet paper and hand sanitizer, the crazy rumors that swirl around COVID-19, the heroes and villains of event, and what you did to pass the time. Write about what was good about the situation, what you learned about yourself and those around you, and the irritations and frustrations of "social distancing." 
Read a Writing Book – And Do Some of the Writing Exercises
Most writing books come with writing exercises or with some sort of writing prompts. Read the chapter and actually do the exercises for a change. Here are a few books I recommend:
Begin a 15-Page Reading Challenge
If you have a particularly large trove of unread books (or have several thousand books stored on your Kindle or other eReader), now is a good time to start a 15-page reading challenge.
What is a 15-Page Reading Challenge
A 15-Page Reading Challenge is designed to help you manage your library by helping you make quick decisions on each book whether you are A) Going to read it someday soon or B) Never going to read it at all. The purpose is to get the books off of your shelves that have been there for years and find them a home that is better suited to them. I love all of my books and I want to keep them forever because I always think that "someday" I will read them. But this is unrealistic. Why do unread books need to sit on shelves gathering dust, taking up valuable free space in our homes? I don't know if anyone else feels like this, but sometimes I feel guilty that I have all of these unread books sitting on my shelf, and a 15-Page Reading Challenge is the perfect way to make the hard decisions on what to do with them.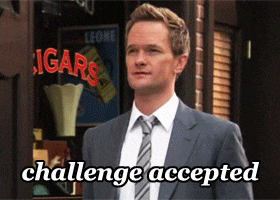 15-Page Reading Challenge Approach
The approach is simple. Select 5 to 10 books that you've been meaning to read and take them to your reading area. Then read the first 15 pages of each book (you can adjust this to reading 5, 10 or 25 pages, or set a time limit for reading each book) and after reading these pages, make a decision.
A) The book is engaging enough that you will read it sometime within the next 18 months. 
B) The book doesn't hold your interest and you realistically will not read the entire thing. 
C) The book is interesting enough that you want to read it someday, but not anytime soon. 
For the books you designate as "A." Put them in your current "to read" pile. 
For "B" books, put them in a box for donation, offer them to a friend who might enjoy them, etc. Just get them out of your house.
For "C" books, capture the title, author and any other relevant info about it in a notebook, spreadsheet, or add it to your Want to Read list on Goodreads (the book scanner feature on the Goodreads app is great for doing this fast). Then toss it into the book donation box.
The point here is to read just enough to determine if the book is worthy to remain in your home. If the answer is no, then send it back out into the world so someone else can enjoy it. It might not be a fit for you, but it will be for someone else.
Paint Something Blue
A 2009 study from the University of British Columbia identified blue as a color that "encourages us to think outside the box and be creative." So paint something blue. A wall, a canvas, your significant other's body, etc.
Begin a Gratitude Journal
Or at least take a few minutes each day to jot down what you are grateful for. This is particularly helpful if you are feeling stressed or anxious as a result of this situation.
Watch TV or a Movie and Write Up the Story Beats
Netflix binges are definitely going to be part of the landscape over the next several weeks, but why not take advantage of your binge time to analyze the story. Summarize each scene in a notebook and then try to map out the story structure.
Try Zentangling
This is something I do from time to time that is really relaxing. A zentangle is a sort of organized doodling. A lot of adult coloring books are based on zentangle designs. But it is a great way to tap into your creative brain as well.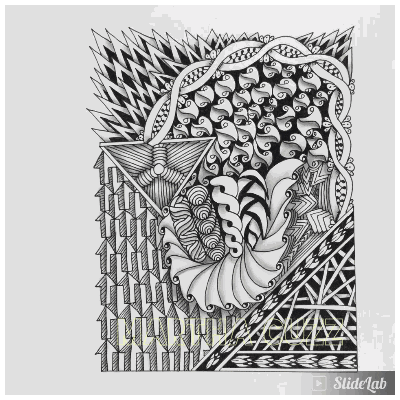 Here is a nice Pinterest board I found of Zentangle examples. If you want to go old school and buy a book, I recommend Joy of Zentangle: Drawing Your Way to Increased Creativity, Focus and Well-Being. 
Write a Poem or a Play
Rumor has it that Shakespeare wrote Romeo & Juliet, King Lear, Macbeth, Antony and Cleopatra, and a lot of love sonnets during outbreaks of the bubonic plague, which shut down the theatres. Maybe this plague is the time for you to write your great work?
Watch Some Brandon Sanderson Lectures on Writing on YouTube
Brandon Sanderson has some wonderful lectures about writing. He has just recently posted several new ones from his 2020 Creative Writing Lectures at BYU. You can even witness his writing process as he writes one of his books in real-time. 
Play in the Idea Sandbox
The Idea Sandbox is a fantastic resource that delivers numerous articles about many different aspects of the creative process, as well as connecting to many other creative thinking tools and resources all over the internet.
But if you want something a little more immediate, check out the BigDig on their site. Similar to Oblique Strategies, the BigDig delivers a "is a sandbox of thought-starters collected from great thinkers and writers." This is definitely worth a look if you are looking for a creative spark.
Use Oblique Strategies to Work Through a Creative Block
According to Wikipedia: Oblique Strategies (subtitled Over One Hundred Worthwhile Dilemmas) is a card-based method for promoting creativity jointly created by Brian Eno and Peter Schmidt, first published in 1975. This deck is filled with suggestions, thoughts or questions designed to help you break through a creative block. 
There is a webpage that shows you a random Oblique Strategy each time you refresh the browser, and you can enable an Alexa skill for your Amazon Echo for this as well.  
If you are interested in learning more, Maria Popova's Brainpickings has details about the history of the original deck including photos of the original cards in her article: "Oblique Strategies: Brian Eno's Prompts for Overcoming Creative Block, Inspired by John Cage." It is an interesting exploration of how artists explore the creative process.
Spend Some Time on the TV Tropes Site
This site is a plethora of information for anyone who wants to become a better storyteller, or just needs to check to see if that "brilliant" idea that has been bouncing around in your head is really a good idea. TV Tropes is a giant wiki dedicated to story in all of its forms. Not all tropes are bad things, but as a storyteller, you need to be aware of them, and this is one of those sites you can just lose yourself for hours in.
Name Characters, Places and More with Fantasy Name Generators
The Fantasy Name Generators site isn't just for fantasy writers. It is packed with all sorts of randomized name and description generators. Having trouble coming up with a name for your Amish protagonist in your mainstream romance novel? No problem. Need some tavern names for a town in your epic fantasy? It's there.
There are hundreds of name and description generators on this site. It doesn't matter if you are looking for a specific ethnic style for your characters. You can look at both modern and ancient names. You can find names for various pop culture names such as My Little Pony, Klingons, or even naming book titles for different types of books. You can get lost for hours in this site, and you can use it to help you get unstuck if you are having a hard time coming up with a good name on your own.
Organize Your Bookshelf by Color
OK. You probably have to be really bored to do this. I mean extremely, insanely bored, but this can promote creativity by giving you some quiet time (while keeping your hands busy) to think and work through a project or a creative block you are stuck on right now, or by organizing the books according to color instead of subject or alphabetically you may get some ideas by seeing various books placed next to each other or be inspired to read a book that you haven't paid close attention to in the past.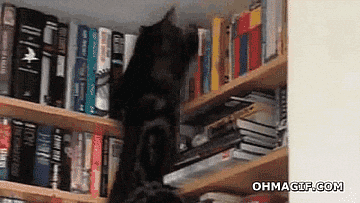 Generate Some Random Writing Prompts
There are many different writing prompt generators out there. Some of them just give you a random word and others give you a complete opening paragraph. One of the ones I really like is the Plot Generator. The Plot Generator is not just limited to plots. It can generate story ideas, opening lines, and even dating profiles. This is a great resource to use if you simply do not know where to start with a project or where to go next. Injecting a little randomness into your process is never a bad thing, especially if you are struggling.
Learn About Other Creative Thinking Techniques
This blog is just getting started so there are not a lot of creative thinking techniques covered in depth yet. Get a head start by going to Mycoted.com which describes dozens of creative thinking processes, problem-solving techniques, and resources you can explore to help you become more creative.
Generate a Bucket List
There never seems to be enough time to think about the things you want to do before you kick the bucket. Now that you are stuck in one place, maybe this would be a good time to make a list of all the places you want to go, the topics you want to learn more about, and experiences you want to have before you die. You don't have to do it all at once, keep a small notebook in your back pocket and jot things down as they come to you. After about a week, you should have a good list to work with once this social distancing is over. Read Something New
Read a book by an author you've never heard of, on a subject you have no interest in, or based only on how cool the cover design is. The best ideas often sprout from places where we don't expect them.
DO IT! – Creative Thinking Exercises
Take one of the exercises above and DO IT! Don't put it off another day. Write about the experience in the comments below.
What are your "go-to" activities you do to recharge your creative batteries?
What writing books do you turn to for inspiration again and again? What writing exercises work best for you?
How are you feeling? Are you making the best of the situation? Or just full of anxiety and worry? Tell us about it in the comments.